IN PERSON EVENT
2msp
2MSP
Abolishing Fossil Fuels and Nuclear Weapons: Live Update from COP28 to 2MSP!
November 30, 2023 at 12:30pm - 2pm Eastern Time (US & Canada)
Ba'hai International Center Bahá'í International Community United Nations Office 866 United Nations Plaza Suite 120 New York City, NY 10017 United States
Contact person: Timmon WALLIS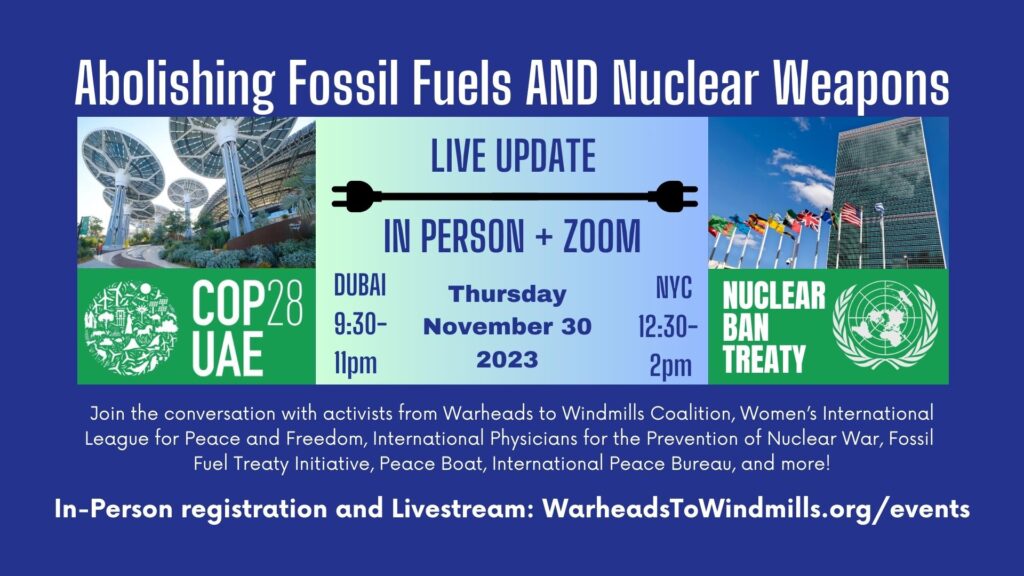 A link up and live update between activists at the 2023 UN Climate Change Conference, the COP 28 in Dubai, and the 2nd Meeting of States Parties to the Treaty on the Prohibition of Nuclear Weapons, the 2MSP in New York.  In New York, activists will gather and call in together from The Bahá'i International Community's United Nations Office in New York.  Those in Dubai will zoom in to join the conversation. 
Join us as we discuss the links between these two existential threats and connect with our colleagues at the COP28 on how we can learn from each other and help build a stronger movement.  Activists and experts at both events will share information, speak on the proceedings and what is expected to come of the meetings, and discuss the vitally important connections between the two issues of abolishing fossil fuels and nuclear weapons.  The conversation includes activists from the Warheads to Windmills Coalition, International Peace Bureau, Peace Boat, Women's International League for Peace and Freedom, Fossil Fuel Treaty Initiative, International Physicians for the Prevention of Nuclear War, and more!  
If you will be in New York for the 2MSP and want to attend in person, you MUST register using the attached form by Nov 28th, 9am ET
Click Here for in Person Registration
This is a hybrid event! For anyone else around the world who wants to watch this live discussion, it will be livestreamed on YouTube at this link for those unable to attend in person! This is a way for everyone to get an inside look at what is happening with these two essential movements, to hear expectations for the conferences, what we can get out of them, and how we can help each other.